| | |
| --- | --- |
| | The first thing that people look for when they visit Florida are the iconic Florida alligators. Sometimes you can catch a glimpse of them in the lakes or even on the side of the road when you make your way from the airport to the hotel. But if you really want to get a good look at these awesome animals you have to visit Gatorland Florida. Here you can find literally hundreds of these amazing reptiles as soon as you walk through the gates and even more as you explore. |
Gatorland is one of the oldest theme parks in the Central Florida area, and is well known for its fun and entertainment. You can walk high above these massive Florida gators on walkways as the meander around in the water. You can even purchase food to feed them. At the end of the day near the main entrance there is a show you absolutely don't want to miss. A park employee will string chunks of meat out over the water on a line, and these massive reptiles will leap out of the water sometimes five feet into the air to catch a meal.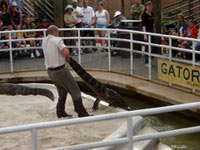 But that's not the only show here; during the day you can catch several different shows. Just pick up a flier when you enter the park that has the show times. From handling snakes to wrestling live alligators in front of an audience, this place has it all! At the end of these shows they offer photo opportunities for all ages. How cool would it be to take home a picture of you sitting on alligator? Speaking of touching an alligator, when you first enter the park you have an opportunity to hold a live alligator or snake!
One of the newest additions to the theme park is a zip line course called the "Screamin Gator Zip Line Course." After a comical instructional video by some of the park employees, you get geared up and taken high up into the canopy where professional zip line instructors help you make your way around the park. These zip lines aren't the only thing that will have you screaming high up in the air, underneath you are ponds absolutely full of alligators!
With plenty of nature trails and animal habitats to explore you can enjoy more than just alligators. Gatorland is home to just about every specie of Florida snake, as well as crocodiles, turtles, birds, deer and more! In fact to the back of the park is a nature walk you can enjoy with friends and family that explores the Florida marsh on boardwalk.

If you are looking to enjoy the outdoors in an easy and comfortable way then this is the theme park for you! Best of all it is inexpensive, and with our great discounts you can make even more affordable than ever! Get your tickets and zip line tickets here and you could save big!